Google Ads vs Google Marketing Platform vs Google Ad Manager vs AdSense vs AdMob
Last Updated: 2021-11-30
Google has a range of Ads related products, which can be confusing:
3 Buyside products:

Google Ads (GDA + UAC)

Google Display Ads (GDA): ads promoting non-app content
Universal App Campaigns (UAC): ads promoting mobile apps

Google Marketing Platform (DV360)
Authorized Buyers: an external brand name for the real-time bidding integration into AdX.

3 Sellside products:

Google Ad Manager
Google AdMob
Google AdSense
(Term "AdX" is now internal)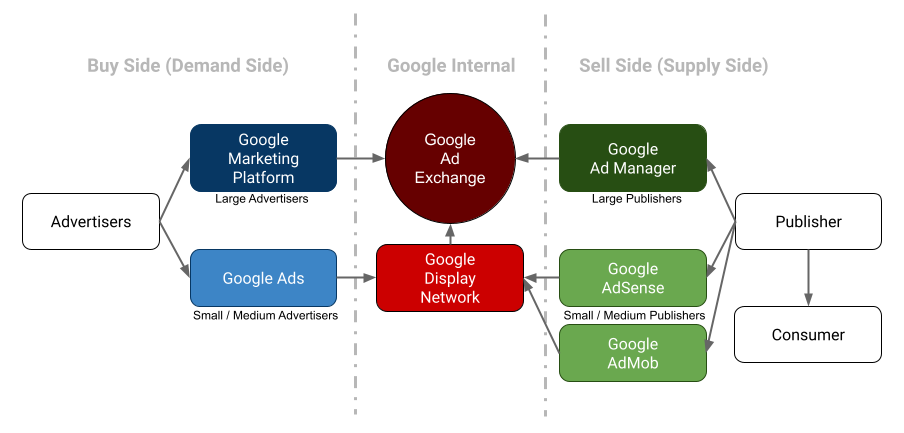 TL;DR:
small advertisers can buy on Google Search, Maps, YouTube, Google Display Network, etc, through Google Ads; besides these channels, large advertisers can use the more sophisticated Google Marketing Platform for direct deals with publishers or buy from other ad exchanges or networks.
small publishers can use AdSense to monetize websites or AdMob to monetize apps; large publisher can use Google Ad Manager to sell reserved slots (deals with advertisers) or "backfill" the unreserved slots through auctions (whether within Google Display Network or by 3rd party networks or exchanges)
For Advertisers
Google Ads (https://ads.google.com): rebranded from Google AdWords, for buying search ads (shown in Google Search, Maps, etc) or display ads (but only in GDN); limited functionalities, ideal for smaller advertisers
Google Marketing Platform (https://marketingplatform.google.com): rebranded from the DoubleClick for Advertisers; for large advertisers;

Search Ads 360: for buying search ads
Display & Video 360 (DV360): for buying display ads and video ads
A comparison between Google Ads and DV360:
| | Google Ads | DV360 |
| --- | --- | --- |
| Search | Yes | |
| Shopping | Yes | |
| Gmail | Yes | Yes |
| YouTube | Yes | Yes |
| Display | Yes | Yes |
| Video | | Yes |
| Audio | | Yes |
Reach: DV360 is not limited to GDN, it can buy from other ad networks or exchanges, and it can buy ads on TV (conventional or on-demand).
Ways to buy: DV360 supports not only open auction but also private marketplace and programmatic guaranteed (PG) deals
Audience targeting: both support Google Affinity Audience and In-Market Audience, but DV360 also supports 3rd party audience
Integrations: DV360 can integrate with DMPs, and works well with the other components in Marketing Platform
For Publishers
They use different "tags" (the js code snippet), e.g. Ad Manager uses gpt.js (Google Publisher Tags), while AdSense uses adsbygoogle.js. Publishers put the tags on their websites in order to request ads.
Ad Manager does not use term "deals", but use "Line Items" (which is not equivalent to "reservations"). Each line item has a priority; AdSense can be one of the line item (however with a lower default priority, as "backfill"). Ad Manager does not choose what ad to serve purely based on the value of the ad, but based on the requirements set by the publisher.
Learn more from the Ads page.